This is a sponsored post written by me on behalf of Tom's of Maine. All opinions are 100% mine.
How often do you take a look at what's inside of the personal care products (deodorants, soaps, toothpastes, lotions, etc.) that you use on a daily basis? We're extremely mindful of the things we eat, but often lose sight of what ingredients we put on our bodies…go take a look at the labels of these products and ask yourself if this is something you should be putting on your largest organ (your skin) every day.

Based on what we found, we decided to try a natural alternative by using Tom's of Maine

Long Lasting Natural Deodorant

. Tom's of Maine is

the

leading personal care brand focused making high quality products that are safer for the environment and consumers.
Before we made the switch to Tom's of Maine, we expected the deodorant sticks to be dry with a very coarse texture (due to the lack of petrochemicals), but applying the deodorant was easy on the skin with a very soft, buttery texture. We didn't notice any residue on our clothes and the smell was fantastic!
We did notice that we needed to re-apply the deodorant before heading to the gym in the afternoon for an intense workout, but we feel much safer in doing so knowing the deodorant is free of toxins. Also, with our active lifestyle, some of the scents held up much better into the evening hours, so we'd recommend going with one of the scented sticks over the unscented stick if you are not concerned about allergens (our favorite was the "wild lavender" scent).
Our gym essentials: Tom's of Maine, lifting gloves, and ear buds!
Give your body about a week to adjust to using a natural deodorant over your previous conventional brand and we think you'll be pleased with the switch! Also please note that this is a deodorant (anti-odor) not an antiperspirant (anti-sweat), thus it does not protect against wetness and does not include aluminum as an active ingredient. If you perspire a lot, you may need to choose an antiperspirant, depending on your day's activities.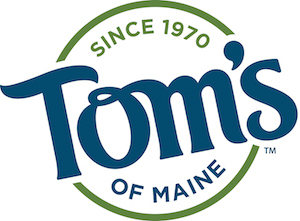 Tom's of Maine natural deodorant is free of petrochemicals, parabens and artificial fragrances and preservatives.

Tom's of Maine uses fully recyclable packaging through local municipalities or the TerraCycle Tom's of Maine Natural Care Brigade and 10% of their profits go back to helping people and the planet.

Finally, how could you not support a company that has this Stewardship Model with a "Goal of Zero Waste" by 2020?
We're glad we made the switch…not only are we helping our bodies, but we're helping the environment by supporting a company that is committed to sustainability and social responsibility.
If you are interested in learning more be sure to connect with Tom's of Maine socially in the following ways:
· Twitter: @TomsofMaine https://twitter.com/tomsofmaine
· Facebook: https://www.facebook.com/TomsofMaine
· Instagram: @Toms_of_Maine https://instagram.com/toms_of_maine
· YouTube: www.youtube.com/user/OfficialTomsofMaine