This post brought to you by Truvia® Natural Sweetener. All opinions are 100% mine.
Need a treat for your guests this Holiday season that won't leave them running for the door and worried you are trying to push your "clean eating" on them? Well, thanks to Truvia® Baking Blend, you can make them a unique treat that uses less sugar and still packs the sweet goodness they are used to.  In fact, just the 1.5 pound Truvia® Baking Blend container is equal sweetness to 3 pounds of ordinary sugar! How's that for helping your guests make better choices?
Truvia® Baking Blend is a combination of Truvia® natural sweetner (made from the Stevia leaf) with sugar. While it's not clean for all of us (because of the white table sugar that's mixed in), it's a great way to keep your Holiday treats on looking like you used the real deal - full sugar! Truvia® Baking Blend bakes just like regular sugar - your treats will come out moist and browned just like your family is used to! Visit the Truvia® website for more tips and information on Truvia® Baking Blend.
Here's one of our favorite recipes with a twist on the original ingredients and of course, our new favorite for your guests, the Truvia® Baking Blend.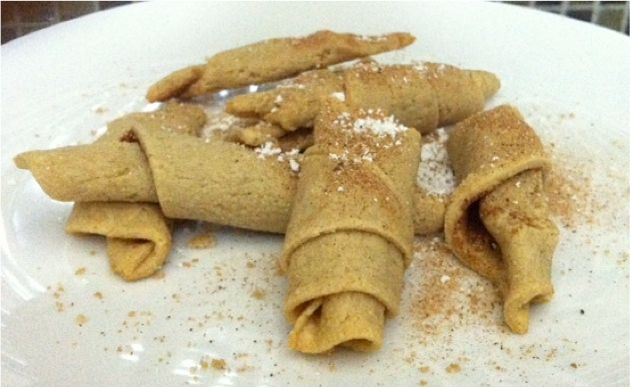 Snickerdoodle Crescent Rollups
Ingredients:
1/4 cup of softened light organic butter
3 ounces of 1% or 2% unflavored Greek yogurt
1/8 cup Truvia® Baking Blend
1/8 cup Brown Sugar
1/2 tsp vanilla
dash of sea salt (about 1/16 of a tsp)
3/4 cup+ Almond flour
-----
1% Organic Milk (for brushing rolls ONLY)
1/2 TBSP Truvia®Baking Blend
1/2 TBSP Brown Sugar
1/2 tsp ground cinnamon
1/8 tsp ground nutmeg
Directions:
Beat organic butter and greek yogurt in a large bowl with an electric mixer on medium speed for 30 seconds.
Add the Truvia® Baking Blend, brown sugar (you may also use a brown sugar baking blend as well) vanilla, and salt. Using your mixer, continue to beat the mixture until mixed - you may need to scrape the sides of the bowl to ensure it is fully combined.
Slowly add flour as you continue to beat the mixture using your electic mixer. A dough will form.
Divide the dough into two round portions. Cover and chill for 45 minutes to 1 hour in the refrigerator. 
Preheat oven to 350 degrees F.
With a lightly floured surface, roll each ball of dough into 7-inch rounds Lightly brush with milk to assimilate flour into dough.
Mix remaining Truvia® Baking Blend, brown sugar, cinnamon and nutmeg. Lightly springle mixture evenly over dough. Cut each round into 8 wedges.
Roll up each wedge, starting from the wide end. Place cookies 1 inch apart a cookie sheet to bake.
Bake for 14 to 16 minutes.
Makes 16 cookies.
-----
My sweet husband (and one willing to stray from his clean eating ways) happily volunteered to try the treats as they came out of the oven. He was blown away! He absolutely loved them!
-----
Want to offer these yummy treats to your guests? Leave us a comment with what favorite Holiday cookie/treat you would like to recreate usiing the Truvia® Baking Blend in and you will be entered to win a $25 Grocery Gift Card from Truvia® Baking Blend!  A winner will be chosen 12/17. 
- Tiffany & The Gang